2018 Honda Civic
New 2018 Honda Civic LX Sedan

Honda Civic
Exterior Features
Style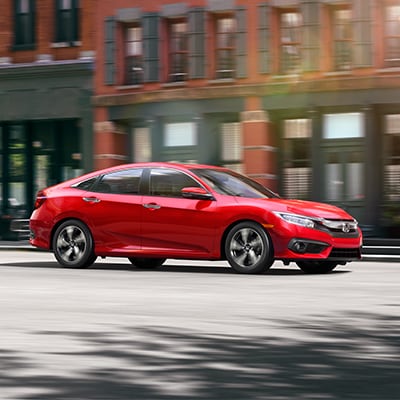 Choose a Sleek Look, Compact Style or Versatile Design
When you are selecting from the 2018 Honda Civic lineup, you will get to consider what you like most about a daily driver and incorporate that into your decision. This is because there are diverse options at your disposal, from an aerodynamic sedan body style to a sporty coupe style and a hatchback model with ample cargo room.
LED Headlights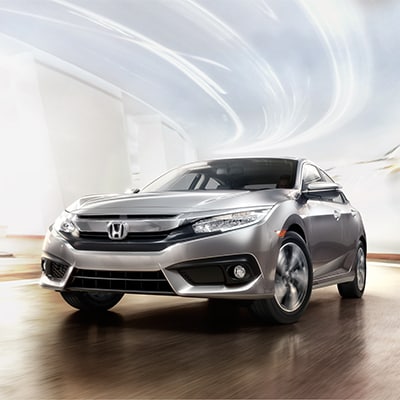 Bright Lights and a Bold Look
LED headlights on the 2018 Honda Civic add a dynamic front end look to your vehicle. This piercing style actually serves a purpose for your drive, improving overall visibility and allowing other vehicles to spot your traveling car more easily.
Performance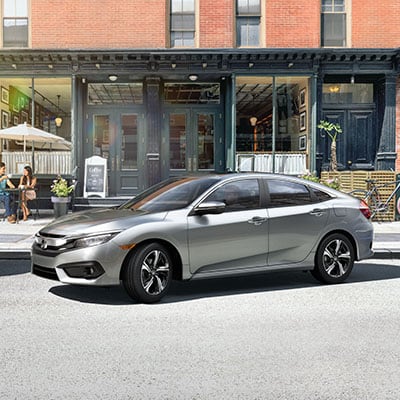 Your Cause for Confidence in Traffic
The available turbocharged engine with 174 horsepower in the 2018 Honda Civic offers a nimble way to get around no matter the destination. Paired with a fully independent suspension, you can enjoy smooth moments spent in motion and the ability to navigate congested traffic patterns on your own terms.

Honda Civic
Interior Features
Comfort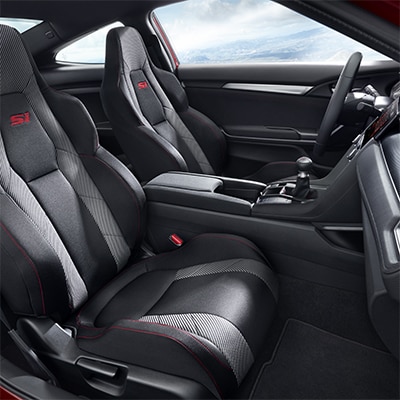 Configure your Driving Comfort
The available eight-way power driver's seats in the 2018 Honda Civic allow you to identify an ideal position in the cockpit prior to departing for the day. These subtle but important adjustments can be the difference between stiff, uncomfortable commuting and an experience that you continue to look back fondly upon.
Technology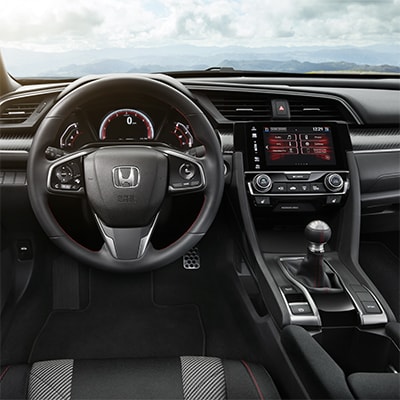 Survey your Surroundings
With available Honda LaneWatch, you can visually check in on the blind spots in the accompanying travel lane next to you prior to making your transition over. This allows you to potentially spot a vehicle with your blinker on, avoiding a collision and restoring your peace of mind on the move.
At Baierl Honda, Our Customer's Satisfaction Comes Above All Else
When you shop for your next daily driver, this experience should bring a smile to your face and excitement to the moments you spend inside of a showroom. This is our core belief here at Baierl Honda, and our team is committed to the time that you spend at our dealership reviewing new Honda models, pre-owned vehicles, financing options and the service resources that we provide. Proud to be serving the Wexford, PA area, we look forward to helping create lasting memories for every driver that passes through our doors.
Our Inventories Promote Variety in Taste but Consistency in Quality
When you shop for a new Honda model, you are seeking consistency, dependability and value in your next daily driver. You will find this in the lineup we feature here in our showroom, with popular sedans, SUVs, hatchbacks and coupes providing exceptional value for your next automotive investment. This quality extends to our pre-owned lineup as well, with used models ranging in makes and body styles to complement your varied preferences.
Our Financing Experts Simplify the Process and Keep your Options Transparent
With financing experts that handle the confusing parts of the lease, auto loan and finance process, you can look forward to a financing plan that matches what you are looking for and that fits what you can afford. We are here to help you arrive at a decision confidently with all of the minor details worked out, to answer your questions and to smooth out the auto loan or lease you are exploring for full transparency.
Our Factory-Trained Technicians are Committed to Maintaining your Vehicle's Condition
You are proud of the vehicle you have recently purchased here at our Wexford dealership, and you want to maintain this sense of fulfillment that you feel. Our factory-trained service technicians are here to help, handling maintenance and repair when the time comes for service work. Oil changes, tire rotations, brake repairs and so much more are managed through diagnostics and genuine auto parts from our parts center. Our collision center will handle more comprehensive work in addition when you have been involved in an accident.
Make Plans to Visit our Wexford, PA Showroom to Get Started Today
We value your experience shopping for your next vehicle here at Baierl Honda, and look forward to helping you make the most of it. Stop by our Wexford showroom today to chat with our team, arrange a test drive and start on your quest for your next daily driver.